In Belgium, you cannot drive 15 kilometers in any direction without seeing healthy cows standing contentedly in green pastures. Besides chocolates, beer, fries and waffles, the country is also regarded for its premium dairy products. Dano Food SPRL (DeliBelge®)is one of the most preferred exporters of dairy products to the United States, Asia, Africa and Europe. In line with our motto 'the best or nothing', we are dedicated to providing clients a range of dairy products of unparalleled quality.
DeliBelge® Full Cream Milk Powder
DeliBelge milk powder is produced in hygienic, state-of-the-art spray drying facilities. It is available in fat levels of 26% and 28%, in both regular and instant form.
DeliBelge® Evaporated Milk
Made by removing 60 per cent of water from fresh milk, DeliBelge® evaporated milk is thick, creamy and a popular substitute for cream in desserts.
DeliBelge® Skimmed Milk Powder
As the world population is becoming increasingly health-conscious, the demand for fat-free milk has sky-rocketed. DeliBelge®skimmed milk powder is dried to a fine powder that's just as nutritious as fresh milk and stays fresher for longer.
DeliBelge® Sweetened Condensed Milk
A concentrated blend of whole milk and cane sugar, DeliBelge®sweetened condensed milk is a popular product that's been helping clients address the dessert preparation needs of hospitality establishments and individual consumers.
DeliBelge® Butter
Where there is great milk, there must be great butter! DeliBelge® creamy and delectable butter is available in different weights, shapes and flavors.
DeliBelge® UHT Long Life Liquid Milk
In ultra high temperature (UHT) treatment, milk is passed through heating and cooling stages in quick succession, following which it is immediately transferred to a sterile packaging. The milk can last up to nine months without preservatives or refrigeration.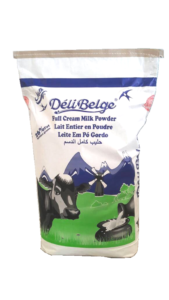 The DeliBelge® Difference
Why would you choose us to be your export partner when so many choices abound? For one, we're a dynamic and fast-growing company with the technological know-how and infrastructure to yield the best quality dairy products.Another is our vast network of clients across the globe who help us stay on the pulse of current and emerging market needs. The insights gained from interactions with our global clients enable us to plan our product line, add or retire varieties of dairy products based on marketplace demand, and stay lean as well as profitable.By streamlining our operations and busying ourselves with value-generating business opportunities, we are able to manage the growth and cost side of things flexibly. It is also why we are able to consistently offer you extremely competitive rates on premium quality dairy products otherwise hard and/or expensive to source elsewhere.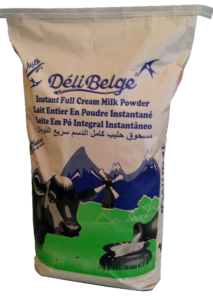 Talk to us Today
Learn more about how we can fulfill your dairy product export needs by phone or email